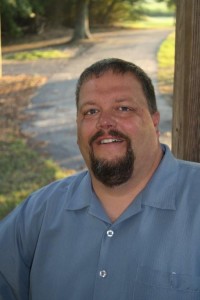 In the early 90's there was a radical change in the life of Eric Hixon. He knew that the Lord was calling him to full-time ministry. God opened doors for Eric to be both a pastor and a youth pastor. Eric has always said, "I feel that the Lord used the time in my life on staff at local churches to prepare me and train me for the work of evangelism." After being prepared to face the challenges of ministry and having walked in truth for some time, M.U.D. Ministries came to fruition.
The Lord gave Eric a vision to go into the world with the truth of God's Word and focus on biblical evangelism. Eric could think of no better name than M.U.D. Ministries because his life and heart was committed to "Making 'U Disciples." After prayerful consideration, Eric and his family stepped out on faith into full-time evangelism through M.U.D. Ministries. They are totally committed to biblical evangelism and are praying for divine appointments to reach this world for Christ.
Eric knows the struggles that local churches face, and he has a true love for God's people. He will encourage your pastor and equip the Body of Christ. There is no doubt that God is using His people and His church to reach the lost today.
From the very beginning, M.U.D. Ministries has had an overwhelming desire to partner with the local church to fulfill the Great Commission. We desire to give Him honor and glory. However, we know M.U.D. Ministries exists only because of the Lord's great mercy. We feel honored to be used by Him in the service of local churches and in reaching out to the lost. Eric is also blessed to be a part of a local church in his hometown, and he appreciates the prayers, encouragement, and support from the body of believers at New Covenant Baptist Church.
M.U.D. Ministries prays that in the coming years God will shape us and mold us in a way that He sees fit. We want to serve the Lord with the same passion in the end that we have in the beginning. Please pray that we will be faithful in each endeavor and that we will be sensitive to the Lord's will in all that we do.